ACUTE VIROTOX (1 oz. liquid)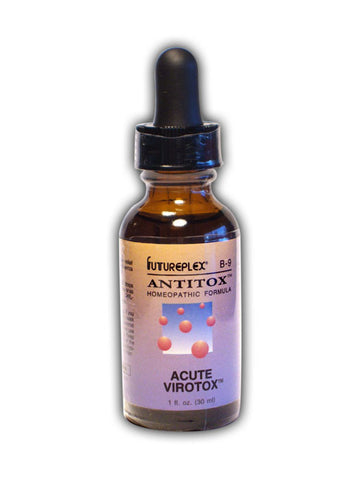 ACUTE VIROTOX (1 oz. liquid)
Description:
The best in homeopathic remedies at the best prices!
For symptoms related to exposure to minor viral influences such as colds, flu and associated inflammations, etc.  Contains flower essences to support stress and along with other ingredients to build resistance.
Indications: For temporary relief of chills and fever, muscle aches, upset stomach, nausea, and nervous irritability.

Dosage: ADULTS: Take 5-8 drops under the tongue 3-4 times a day, or as directed by your healthcare professional. CHILDREN: Use half the adult dosage.
Directions: Take homeopathic remedies up to 30 minutes before meals.  Several formulas can be taken together. Avoid coffee and mint products as they may reduce effectiveness of this formula.  Avoid exposing to X-rays in the airport.
INFLUENZINUM

9X 12X 15X 30X

SARCOLACTICUM ACIDUM, EUCALYPTUS,
LUFFA OPERCULATA

6X 9X 12X

ACONITUM NAPELLUS

4X 8X 10X 12X 30X 200X

BELLADONNA

4X 6X 8X 30X 200X

FERRUM PHOSPHORICUM

9X 12X 15X 30X 200X

BRYONIA

9X 12X 15X 30X 200X

GELSEMIUM SEMPERVIRENS, 
LACHESIS, PHOSPHORUS

12X 15X 30X

VERATRUM ALBUM

9X 12X

GENTIANA LUTEA

4X 6X

ARSENICUM ALBUM

12X 30X 200X

EUPATORIUM PERFOLIATUM

3X

ECHINACEA ANGUSTIFOLIA, ECHINACEA PURPUREA

1X

IMPATIENS, CHERRY PLUM, ROCK ROSE, STAR OF BETHLEHEM, CLEMATIS, OLIVE

9X

BAPTISIA TINCTORIA

3X 6X 9X
ALCOHOL 20% BY VOLUME.  

Other fine products