Emulsi-D3 Synergy™ 2 oz liquid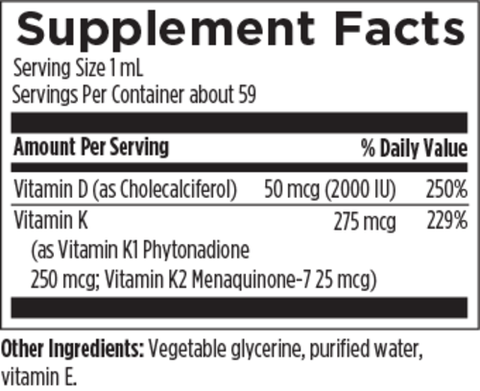 Emulsi-D3 Synergy™ 2 oz liquid
Description:
Emulsi-D3 Synergy™ is a concentrated, highly bioavailable liquid vitamin D formulation offering 2000 IU per 1 mL (one full dropper) along with 250 mcg of vitamin K1 and 25 mcg of vitamin K2. This is a convenient, pleasant-tasting and easily mixable formula. Both vitamins D and K are essential for bone and arterial health, and for maintaining immune function. Vitamins K1 and K2 support the deposition of calcium into the bone instead of soft tissue, such as the arterial walls and kidneys.**
Recommended Use: As a dietary supplement, take 1 mL per day, or as directed by your health care practitioner.
** These statements have not been evaluated by the Food and Drug Administration. This product is not intended to diagnose, treat, cure, or prevent any disease.

DAIRY FREE
VEGETARIAN
GLUTEN FREE
SOY FREE
NON-GMO
HEAT SENSITIVE
Both vitamin D and K are essential for optimal bone and arterial health and for maintaining proper immune balance. A large proportion of the US population is very deficient in vitamins D and K, emphasizing the importance of adequate supplementation of these critical vitamins.
Vitamin K was specifically added to this formula to help keep the important bone protein osteocalcin, carboxylated. Undercarboxylated osteocalcin cannot regulate calcium, causing it to freely circulate in the bloodstream, and potentially be deposited in the soft tissues such as arterial walls or kidneys. 
Emulsi-D3 Synergy™ may be beneficial for:
• Heart health
• Immune support
• Osteoporosis/Osteopenia
• Healthy teeth
• Mood disorders
• Helping reduce cancer risk, or for support during cancer treatment
• UV protection
• Long-term vitamin D supplementation
• Children, the elderly, and anyone who has difficulty swallowing pills
Emulsi-D3 Synergy™ uses a natural, self-emulsifying technology -which allows for fast and complete dispersion in liquid.
Presented in a 2oz bottle, Emulsi-D3 Synergy™ makes dosing very simple and accurate:
• Offers a broad range of dosages and titration possibilities
• Accurate dosing: 1 full dropper (1 ml) yields 2000 IU vitamin D, 250 mcg vitamin K1 and 25 mcg of vitamin K2
• It can be dropped into any beverage, or simply put on the tongue
• Pleasant tasting