Allergy Program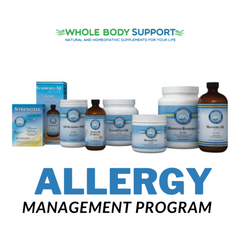 Treat Allergy Related Symptoms
Studies estimate that over 25% of the population suffers from allergic disorders and scientists suggest the problem is only growing. Now you can naturally cure or eliminate the symptoms of most allergens with our Allergy Program.
Our allergy program utilizes a variety of supplement that promote respiratory, skin and immune system health related to allergy symptoms
This kit includes the following:
Immu-Zyme

Histo-X

Trizomal™ Glutathione

Ad-Pro K-119

Enterovite

RepairVite SE

X-Viromin
Click to Purchase
There are no products in this view.