Thyroid Treatment Program
Thyroid Treatment Program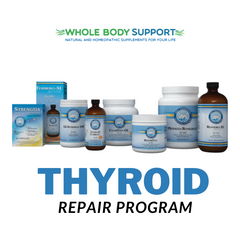 Find Relief From Thyroid Symptoms
The thyroid gland plays an important role in regulating energy levels, weight, mood, our ability to think clearly, sleep patterns, and even anxiety levels.  Our program has helped 1000's discover and treat these thyroid symptoms using NEW, innovative protocols.
Our thyroid treatment system is helping patients live energetic, healthy, and active lives. Weight issues, fatigue, anxiety, and headaches are all possible symptoms of thyroid dysfunction.
This program includes the following:
Thyro-CNV
Adaptocrine
Trizomal™ Glutathione
Resvero K-76
Nitric Balance K-62
ClearVite GL
Turmero Active K-75
Liqua-D
Oxicell-SE (KR-70)
Zinc-Zyme
ZINC - ZYME (90 caps)
Wholebodysupport.com has all the products you're looking for! This product contains a potent form...