BACTEROTOX (1 oz. liquid)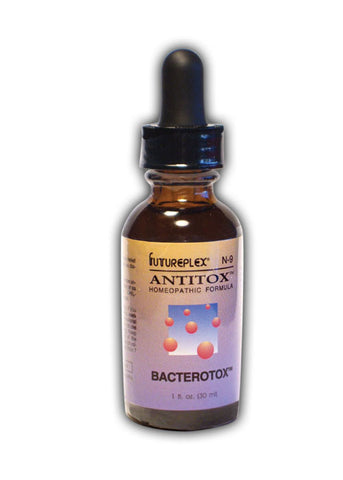 BACTEROTOX (1 oz. liquid)
Description:
Clear the body of unwanted toxins with ANTITOX® N-PLEX formulas!
For relief of symptoms related to bacterial foci and vaccinations as well as colds and other such minor infections.  Best in acute situations.  
Indications: For temporary relief of inflammation, wounds, sinus discomfort, colds, fever.
Dosage: Acute:  10 drops under the tongue, every hour.  Chronic:  20 drops twice daily.  CHILDREN use half the adult dosage.
Directions: Take homeopathic remedies up to 30 minutes before meals.  Several formulas can be taken together. Avoid coffee and mint products as they may reduce effectiveness of this formula.  Avoid exposing to X-rays in the airport.
| | |
| --- | --- |
| ALLIUM CEPA, ALLIUM SATIVUM | 2X 30X |
| BELLADONNA | 3X 200X |
| CALCAREA SULPHURICA | 12X 30X 60X |
| CALENDULA OFFICINALIS, ECHINA-CEA ANGUSTIFOLIA, HYDRASTIS CANADENSIS | 1X |
| HEPAR SULPHURIS | 12X 30X 200X |
| MYRISTICA SEBIFERA | 2X |
| SILICEA | 10X 12X |
| LACHESIS MUTUS, THUJA OCCIDENTALIS | 9X 12X 15X 30X 60X 90X |
| ACONITUM NAPELLUS | 30X 60X 200X |
| FERRUM PHOSPHORICUM | 9X 30X 60X |
Other fine products