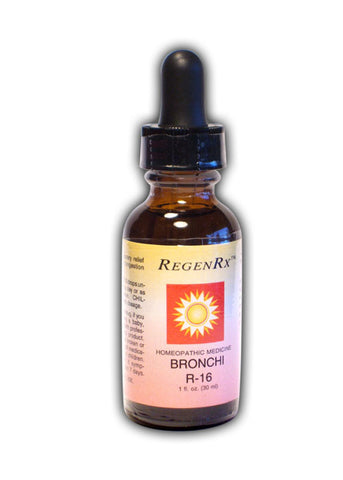 BRONCHI (1 oz. liquid)
Description:
Get the best prices on REGENRX R-PLEX formulas at Wholebodysupport.com!
In patients with minor upper respiratory infections accompanied by a cough, asthma-type symptoms, or who have a history of significant cigarette smoking.  This special formula is primarily a rejuvanative remedy.  It features Thuja for the first time in multicords of three potency classifications: X, C, and LM.
Indications: For temporary relief of minor upper respiratory congestion and cough. 
Dosage: 10 drops under the tongue, 3 times a day.  CHILDREN use half the adult dosage.
Directions: Take homeopathic remedies up to 30 minutes before meals.  Several formulas can be taken together. Avoid coffee and mint products as they may reduce effectiveness of this formula.  Avoid exposing to X-rays in the airport.
THUJA OCCIDENTALIS

2X 3X 6X 8X 12X
1C 2C 3C 5C 6C 7C 1LM

SILICEA

1LM

IGNATIA AMARA

2LM

PLATINUM METALLICUM

2LM

CUPRUM METALLICUM

2LM

CALCAREA IODATA

2LM

ADENOSINE TRIPHOSPHATE

5X
Other fine products