CLEARVITE- GLB (0.52 lbs powder)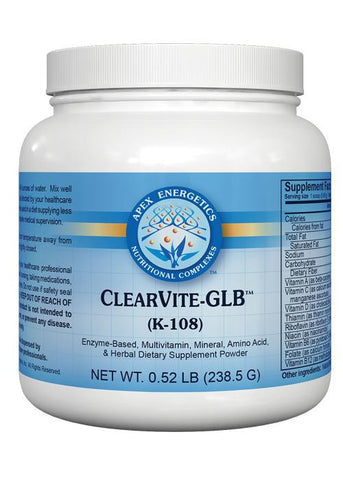 CLEARVITE- GLB (0.52 lbs powder)
Description:
ClearVite-GLB™ (K108) is based on our popular ClearVite™ formula and is designed to offer gastrointestinal and metabolic support.* ClearVite-GLB™ excludes sources of rice and pea protein for those with sensitivities to grains or peas, or who require low carbohydrate content.*  It contains 2 grams of targeted amino acids, as compared to 5 grams in ClearVite-GL™ (K95).  It also contains no sugars, which makes it ideal for anti-yeast diets.* ClearVite-GLB™ is also intended to support liver detoxication and chemical biotransformation with targeted nutritional cofactors.* It offers a pleasant, natural fruit flavor.
Suggested use:  Mix 1 scoop with 4-6 ounces of water.  Mix well before drinking.  Use once a day, or as directed by your healthcare professional.  This product should not be used in a diet supplying less than 600 calories per day without complete medical supervision.
* This statement has not been evaluated by the Food and Drug Administration. This product is not intended to diagnose, treat, cure, or prevent any disease.
Serving size  1 scoop (5.68 g)
Servings per container  42

Amount Per Serving

Calories

20

 

   Calories from fat

5

 

Total Fat

0.5 g

   Saturated fat

0.5 g

3%†

Sodium

65 mg

3%†

Carbohydrate

  Dietary Fiber

2%†

Vitamin A (as beta-carotene)

850 IU

17%

Vitamin C (as calcium ascorbate, manganese ascorbate)

125 mg

208%

Vitamin D (as cholecalciferol)

150 IU

37%

Thiamin
(as thiamin mononitrate)

2 mg

133%

Riboflavin
(as riboflavin 5'-phosphate)

2 mg

117%

Niacin (as niacinamide)

4 mg

20%

Vitamin B6
(as pyridoxal 5'-phosphate)

4 mg

200%

Folate (as calcium folinate)

100 mcg

25%

Vitamin B12 (as methylcobalamin)

75 mcg

1250%

Biotin

75 mcg

25%

Calcium (as calcium citrate malate, calcium ascorbate)

100 mg

10%

Phosphorus
(as monosodium phosphate)

8 mg

1%

Magnesium
(as magnesium citrate)

75 mg

19%

Zinc (as zinc methionate)

3 mg

20%

Selenium (as L-selenomethionine)

15 mcg

21%

Manganese
(as manganese ascorbate)

4 mg

200%

Chromium


(as chromium polynicotinate)

40 mcg

33%

Molybdenum
(as molybdenum amino acid chelate)

40 mcg

53%




Proprietary Amino Acid Blend:  

2070 mg* of

  L-Glutamine, L-Alanine, Glycine, L-lsoleucine, L-Tyrosine, Proline, L-Asparagine, L-Threonine, Taurine, L-Valine, L-Cystine, L-Serine, L-Lysine (as L-lysine monohydrochloride), L-Arginine (as L-arginine HCI), 

L-Glutamic Acid, 

N-Acetyl L-Cysteine, L-Leucine, 

L-Phenylalanine, 

Acetyl L-Carnitine HCI, 

L-Histidine, 

L-Tryptophan, D-Aspartic Acid, L-Methionine, L-Cysteine (as L-cysteine HCI).

Proprietary ClearVite Blend

™

 Blend:  

1760 mg* of

 

Medium Chain Triglycerides Oil, Evening Primrose Oil (seed),

L. Acidophilus, 

Milk Thistle Extract (seed), Quercetin (as quercetin dihydrate),

Hesperidin (from

Citrus sinensis

fruit extract

), Rutin (from Sophora japonica bud extract), Enzyme Blend (cellulase, amylase, protease, glucanase, lipase), Gamma Oryzanol, Choline (as choline bitartrate), Ginger (root).

† Daily Values are based on a 2,000 calorie diet.
* Daily Value (DV) not established.


Other ingredients:

  Natural flavor (fruit punch), luo han guo fruit extract, sea salt, sodium bicarbonate.
Other fine products