TURMERO-XL™ ACTIVE (16 fl. oz.)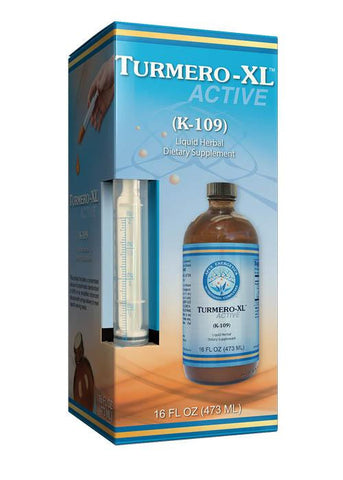 TURMERO-XL™ ACTIVE (16 fl. oz.)
Description:
Turmero-XL™ Active helps to support the immune system and the liver's detoxication activity with a formula standardized to 95% curcuminoids in a micronized emulsification.* This product utilizes oral syringe delivery to meet specific serving needs.  It comes in a larger 16 oz bottle and includes more servings of high-quality, standardized turmeric extract and  black pepper extract than Turmero™ Active (K75).
Suggested use: Take 5 ml (approx. 1 teaspoon) orally once a day, or as directed by your healthcare professional.  Shake well before use.  Refrigerate after opening.
Serving size 5 ml (approx. 1 teaspoon)
Servings per container 94

Amount Per Serving

*

  Turmeric Extract (root)
  (standardized to 95% curcuminoids)

  Black Pepper Extract (fruit)

*Daily Value (DV) not established.

Other ingredients: 

Filtered water, medium chain triglycerides, vegetable glycerin, xanthan gum, citric acid, apple pectin, natural flavor (orange), potassium sorbate (to maintain freshness), luo han guo fruit extract, sodium citrate.

Other fine products